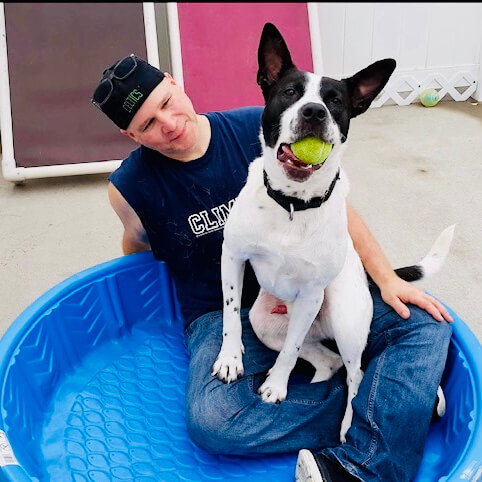 Special guest blog post by Mike, Second Chance Volunteer
I've been volunteering at the Second Chance Adoption Center for a number of years now and if you know me you know I have a soft spot for special dogs, the misfit toys that may have a hard time finding their perfect person or the right situation.  There are barkers, growlers, shakers, nippers, the mouthy, the rambunctious, the high energy hard to handle trouble makers, and if you've been to the adoption center anytime in the past year you know Joe.  And you know Joe, is ALL OF THE ABOVE.   He can be a real jerk sometimes and the way he greets people you might even think he's a mean dog.  To be honest I was a little afraid of his tough exterior when I first met him and usually left his care to the staff and went about tending to the other dogs.  Well, after a few "interactions" with Joe, I got to know him and he got to know me.  We started to play and hang out and before long I was working with him on his commands (he learned a lot at Project Good Dog) and his manners (he's still pretty rude and doesn't quite understand personal space but I think we all know someone like that either dog or cat or goat or person) but we got to know each other pretty well.  Joe was really responding to the attention and I think he began to appreciate the patience I had with him.  Like me and literally everyone I know Joe suffers from a bit of anxiety and isn't quite sure how to process it so he communicates in canine ways.  And I get that, so I let Joe Be Joe.
The first time I took him out of the shelter for a Dogs Day Out I was anxious.  I was confident about our in-shelter relationship but wasn't sure how he would react to me and outside stimuli apart from the shelter.  And Joe was fine.  He was afraid of my car at first and wouldn't go in until I sat inside and let him jump on my lap. And so began my Wednesdays with Joe. Every Wednesday Joe and I go hiking.   What I have learned is that Joe is like anyone really.  He has good days and bad days and days when he doesn't know what to do with all his energy. He's a bit goofy.  He's usually happy. He can be overbearing.   He's mouthy. He's loving and this dog Joe is smart.   But what I also learned is that Joe doesn't have a mean bone in his body.  He can be grumpy and you certainly don't mess with him when he's eating.   He is affectionate and at times way too much, he is loving and loyal, he's rough, he's gentle (believe it or not), he is demanding and high maintenance at times. But he is just not mean.  Not everyone can appreciate a dog like this dog Joe.  And I can appreciate that.  Some people wouldn't go near a dog like this dog Joe.   And that's OK.  Joe needs the right place, the right people and because of Second Chance Animal Services, this dog Joe isn't being given up on.  He's got a chance at a great life.  He's got a chance to find that right place and person that will just love him for the flawed and loving individual that he is.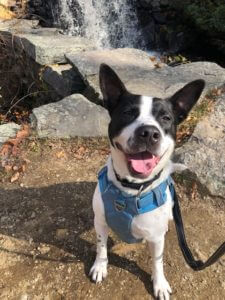 Joe and I have walked miles together in just a short time, through woods and leaves and mud and rivers and waterfalls.  He loves to hike, he loves exploring, I mostly let him lead the way with just a little direction now and again.  He's great on leash, unless it's cold then he moves pretty fast when he knows we are heading back to the car.   We stop and work on his commands and his obedience around others. We play on picnic tables.  Joe loves playing and jumping up on picnic tables, big rocks, stumps, and benches.  He'd probably love to climb a mountain as long as there aren't a lot of snakes.  Joe does not like snakes.  Joe loves to just find a nice bench and stop and sit with his paws on my lap and just be in the moment.  I think he knows I need that just as much as he does. We discover new places together and spend a lot of time just sitting and enjoying the outdoors and each other's company.  He's a good friend and hiking buddy!
I've met a lot of special dogs at Second Chance.  There have been so many, Mrs. Wiggles, Wendell, Ivy, Yogi, Banter, Kansas, King, Sasha, that little ankle biter that growled at everything…. there is just this amazing list of amazing dogs that just needed to find the right spot.  And they did.
So, I know, and it's the most pleasant sorrow, that Joe will find a home someday.  That special someone will go out and buy him these great toys with his own special spot with his own big comfy bed that will go mostly unused because he will be sleeping in the bed of the person that gave him his home.  He'll sleep on them, under them, next to them. Trust me, he's not going to take no for an answer – don't waste too much money on the bed.   Tennis balls, soccer balls and stuff to chew on, spend the money wisely.
To be selfishly honest, I wish Joe could stay at the shelter until I have a home to give him.  But that's not what is best for Joe.  The best thing for Joe is to get out of the shelter into a place to call his own.  A place besides a shelter where he feels comfortable, accepted, loved.  Someone that will give him the time and patience he needs and deserves.  I'm not sure if Joe ever had a home, he may have never known what it's like to have a soft bed in his own corner.  He might not have had a yard to run around in.  He may not have ever had a movie night with a friend.  I think when Joe has these things, he'll mellow out a bit, he won't be so anxious, he won't be over excited just to get out of his kennel.
Everyone I know has heard about Joe.  I tell anyone that will listen. Yes, he's hard to handle.  Yes, he's hurt me a couple times. Yes, it's hard to drive with him.  Yes, my car is filled with Joe fur.  But as we drive and he leans into me just to be closer and he puts his head into my chest and sighs I know that his heart and his intentions are good.  I know this dog Joe pretty well now and to anyone that is willing to give him a chance, I will be more than happy and thrilled to teach anyone all I know about Joe.  Joe may not be my dog but I will always be his "special Volunteer".