Second Chance Community Veterinary Hospitals
Three Community Veterinary Hospitals providing full-service veterinary care for your pet, plus weekly vaccine clinics,  a low cost spay/neuter program, and more!  And all our hospitals offer subsidized rates for qualified households.
Second Chance Animal Services operates high quality veterinary hospitals in Springfield, Worcester and North Brookfield.  Our hospitals are open to everyone and offer subsidized rates for qualified households as part of our Community Healthy Pet Initiative. These reduced fees are only available to those that qualify. You must meet the income requirement to receive the subsidized rates. Those that do not qualify pay the regular fees and all proceeds benefit the programs that help pets in need.
Our caring staff of veterinarians, veterinary technicians and support staff provide the best care and treatment for your. We have the latest in equipment and cutting edge spay/neuter surgery techniques to help ensure a great experience for tall pets.
Our hospitals, coupled with our long standing spay/neuter and vaccine clinics is another way that Second Chance Animal Services is leading the way to fight suffering in the pets in our community and beyond. Second Chance is a very different animal organization that provides programs to help in every way possible to make lives better for pets. We make a difference in the lives of over 37,000 pets each year.
Here is an interesting article on how important access to this program is in keeping pets out of shelters in the first place. http://www.huffingtonpost.com/entry/aspca-report-pets-given-up-to-shelters_56896846e4b06fa68882a134
Here is an article about our hospitals serve the public:
The Republican Article: Second Chance Animal Shelter helps underserved community of pet owners
For Our Special Patient's Health & Comfort:
Surgeries are performed on heated surgical tables
Post-surgical comfort includes heating units to keep pets comfortable and warm
In-house laboratory services including state of the art comprehensive blood chemistry and cytology machines
Anesthetic monitoring including pulse oximetry
Dental cleanings and extractions
Digital Dental X-Ray
Digital Full Body X-Ray
Parasite control
Pain relief
Individual comfortable recovery cages
A loving and knowledgable veterinary staff
Licensed veterinarians trained in cutting edge spay/neuter surgery
Community Veterinary Hospitals
North Brookfield Community Veterinary Hospital
372 N. Main St.
North Brookfield, MA 01535
508-637-1333
FAX: 508-637-1417

Springfield Community Veterinary Hospital
67 Mulberry Street
Springfield, MA 01105
413-739-2343
FAX: 413-372-4163

Worcester Community Veterinary Hospital
831 Main Street
Worcester, MA  01610
774-243-1234
FAX: 774-207-5493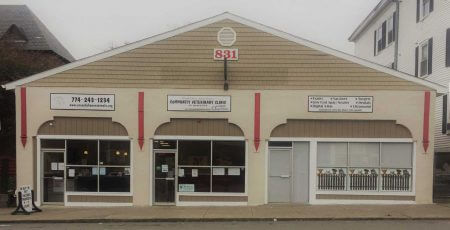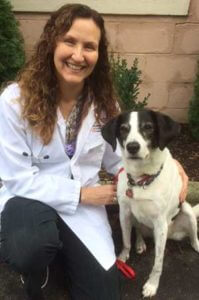 Dr. Grace Park is a native of Connecticut. She received her Bachelor's and Master's degree in Biology from the University of Colorado at Boulder in 2001 and a Doctorate in Veterinary Medicine from Colorado State University in 2005.  She was voted the 2019 Best Veterinarian by readers of Worcester Magazine.
Dr. Park has practiced extensively in the Northeast working in CT, NY, NJ, and Massachusetts. She joined Second Chance in 2015 as our Medical Director. Her special interests include dentistry, population control, soft tissue and orthopedic surgery and geriatric medicine. Dr. Park is certified in veterinary acupuncture and also has a certificate in aquatic pathobiology.
Dr. Park shares her home with her husband, her cat Lion and 3 pet fish. Her interests include the creative arts, gardening, travel and hiking.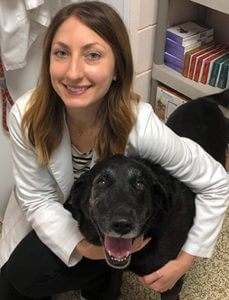 Dr. Ashley Raymond is a native of Pomfret, Connecticut where she developed a love for animals while growing up on her family's small farm. She attended Syracuse University and earned a Bachelors of Science degree in Biology in 2010. She completed her Doctorate degree in Veterinary Medicine at St. George's University in 2014 and attended her clinical year at the University of Tennessee.
Dr. Raymond has a passion for dentistry and oral health, for which she's pursued advanced training. She also has a special interest in internal medicine and ultrasonography. When not caring for patients, Dr. Raymond enjoys spending time with her husband, dogs, cats, and Nigerian dwarf goats and working on her coral reef aquarium.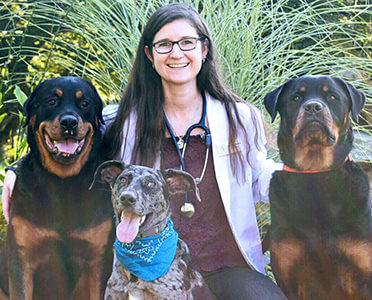 Dr. Jackie Celmer grew up in Southbridge Massachusetts. She earned her undergraduate degree in pre-veterinary sciences at the University of Massachusetts in Amherst. Dr. Jackie attended Ross University school of Veterinary Medicine on the small Caribbean island of St. Kitts. She completed her clinical year at the University of Tennessee in January of 2018.
Dr. Jackie has a strong passion for shelter medicine and helping furry friends find their lasting home. In fact Dr. Jackie couldn't resist adopting one of her own. When not working as a veterinarian, Dr. Jackie enjoys spending time with her dogs, her family, hiking, watching scary movies and knitting.
Dr. Jennifer Johnson grew up in New York, where she developed her love for animals and earned a Bachelor of Science degree in Animal Science from Cornell University.  After receiving her Doctor of Veterinary Medicine degree from Michigan State University, she went on to serve on Active Duty as a Captain in the United States Army Veterinary Corps, where she was in charge of the veterinary care for military working dogs as well as providing public health services to the community.  
Upon transitioning back to civilian life, she ultimately came to work for Second Chance Animal Services in the Springfield Community Veterinary Hospital, where she enjoys promoting preventative care and has interests in ultrasonography and caring for geriatric pets.  In her free time, she enjoys traveling, hiking and spending time with Tucker, the puppy she adopted from the Second Chance.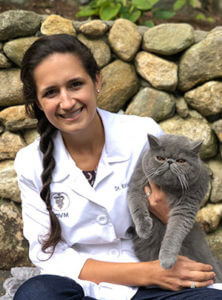 Dr. Kristen Cormier has been a member of our surgical team since 2012. She has been performing high quality, high volume, spay and neuter surgeries since 2011 and has safely spayed and neutered over 20,000 animals! Through her work, she hopes to help end the pet overpopulation, and homelessness problem, in our country.
Dr. Cormier received her Bachelor's in Animal Science from UMass Amherst.  She went on to receive her Doctorate in Veterinary Medicine from Ross University in May of 2009. During her clinical rotations at Tufts University, she flew out to Ohio to the Animal Clinic Northview's Center for Canine and Feline Reproduction and Infertility to study alongside the renowned Dr. Robert Hutchison.  
Her special interests in veterinary medicine include surgery, anesthesia, reproduction, and emergency surgical procedures such as C-sections, pyometras and foreign body extractions.
All flat-faced animals steal her heart, and she has a special place and admiration for English Bulldogs. She is pictured here with her 1-year-old, super silly kitty "Rocky."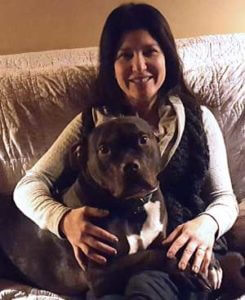 Dr. Rosario Delgado-Lecároz grew up in Puerto Rico. She graduated from Tufts University in 1993 and completed a one year large animal production medicine internship at Cornell University where she worked with farm animals mainly cows, horses, sheep, goats and pigs. She did a second internship in CT working with medicine and small animal surgery specialists. The plan was to go back to PR to work on a mix animal practice but she met a really cute American, got married, and the rest is history.
Before working as a shelter veterinarian, she worked at an emergency clinic for 3 years and completed training in veterinary homeopathy and acupuncture. She was a holistic veterinarian for a period of time but community and shelter medicine was more fulfilling than individual medicine. She recently finished a shelter medicine certificate and divides her time working with several local shelters in MA. She also enjoys working at her mix animal practice, Country Veterinary Services, working with sheep, goats, and pigs.
At Second Chance, she provides spay and neuter surgeries for dogs, cats, rabbits, pigs and small ruminants. Rosario is also helping in Puerto Rico since the hurricane in 2017 through "Veterinarians for Puerto Rico" performing spay and neuter for owned and stray 'satos' on the Island. She lives in Upton with her two teenagers, 3 dogs, 2 cats, 2 geckos, a herd of friendly fat sheep and her lucky husband. She LOVES being a vet and working at the shelters, and the local farmers in the area. In her free time she does laundry, cleans the house and enjoys life resting peacefully.

Mobile Veterinary Clinic
Forever Together – Keep Pets and Their Families Together
Thanks to a grant from Petsmart Charities we have a mobile veterinary clinic!
We are always adding locations for mobile vaccine clinics. Below is our regular list of locations.
Satellite Clinic Times and Places
Dudley, MA
Our vet team will be available for walk-in clinic services on the Second Monday each month at the following locations:
Location:
Woofy's Grooming
17 W. Main Street
Dudley, MA 01571
view map >
When:
Every 2nd Monday of the month

To safeguard the health of pet owners and staff, the April 13 Mobile Veterinary Clinic has been cancelled.

Hours:
9:00 am -11:00 am
We're on the road to saving more lives!
Mobile adoption programs:
This vehicle is currently at the Petsmart in Framingham and Northborough, MA on the 1st and 3rd Saturdays of each month with some of our adoptable dogs.  And, don't forget, we have several adoptable cats inside the Petsmart in our adoption center as well.  Click here for details.
Mobile Veterinary
Clinic Services
| | |
| --- | --- |
| Rabies vaccine | $12 |
| Distemper vaccine | $12 |
| Flea treatment | $15 |
| Canine or Feline SNAP tests | $30 |
| Microchipping | $20 |
To Qualify For Subsidized Services
Our hospital is open to everyone. If you do not qualify for subsidized rates, services are at standard rates.
To Qualify For Subsidized Pricing
Our Community Veterinary Hospitals strive to alleviate the suffering of pets from treatable medical conditions. We provide low-cost care and treatment to those that cannot afford to care for a pet in need.
Our hospitals, coupled with our long-standing spay/neuter and vaccine clinics is another way to show that Second Chance Animal Services is a leader in helping to fight suffering in the pets in our community and beyond. Second Chance is a very different organization that provides programs to help in every way possible to make lives better for pets. This is just one more way that Second Chance is making a difference in over 37,400 pet's lives every year. It is important to us to keep pets in their homes whenever possible.
Our subsidized pricing means that for those that are on fixed incomes, we provide reduced rates on veterinary services. This helps to ensure that pets get the medical care they need for treatable medical conditions.
You must be below 150% of the poverty level.
Income verification is required for anyone seeking the subsidized rates. Otherwise, the standard veterinary rates apply.
Please note, subsidized pricing is not available to those pet owners that are actively breeding their pets, or for the litters of those breeding pets. Subsidized pricing is meant to help pet owners who have financial restraints that limit their ability to provide veterinary care for their pet. If you are breeding your pet for sale, you are disqualified from this program. You can still use our veterinary program but at the regular, non-subsidized rates."
Weekly Walk-In Vaccination and Microchip Clinics
PLEASE NOTE: At this time our Walk-In Vaccine Clinics have been suspended to safeguard the health and safety of all.  Please call one of our hospitals if your pet needs to be seen for an appointment.
Every Tuesday from 9 AM – 11 AM at our Springfield Community Veterinary Hospital at 67 Mulberry Street
Every Wednesday from 9 AM – 11 AM at our North Brookfield Community Veterinary Hospital at 372 N. Main Street
Every Thursday from 9 AM – 11 AM at our Worcester Community Veterinary Clinic at 831 Main Street
Second Chance offers vaccine and microchip clinics to help ensure that all pets get home safely and are protected from rabies. Cats must be in carriers. Dogs must be on leash.  If your pet has had a previous rabies vaccine, please bring the pets Rabies Vaccination Certificate as proof to be eligible for a 3-year rabies vaccine.
For mobile clinic locations and services offered at those clinics, please go to our mobile clinic page.
Walk-In Vaccine  and Microchip Clinic Services
Rabies Vaccination (RABVAC3)
If your pet already has a rabies vaccine and this is a booster, please bring the pet's Rabies vaccination Certificate as proof. The pet may be eligible for a three year rabies vaccine.
$12
Distemper Vaccination (DA2PP and FVRCP)
$12
Microchip
$20
Heartworm/Lyme/an/ec 4DX test (dogs)
$30
FELV/FIV (Leukemia/Feline Aids) test (cats)
$30
Flea Treatment
$15
General Dewormer
$15
Fecal AntigenTest – NOTE: Bring a fecal sample for the fecal test. Test results available the the next day. Medication extra.
$13
Low Cost Spay & Neuter Program
Stop Pet Overpopulation Today!
Cat or Dog Spay/Neuter (S.P.O.T. Program)
Spay/Neuter Program
Our Spay/Neuter Program is temporarily on hold so we can conserve critical surgical supplies for urgent and emergency surgeries.  (Many supplies are on backorder around the world right now.). We will resume this program as soon as we can.  In the meantime we ask for your patience and understanding.  Filling out a SPOT application online is the best way for us to contact you when things get back to normal.  At times our spay/neuter voicemail may be full as our limited staff help pets needing immediate veterinary care.  We are doing our best to help all the pets.  Thank you.
Second Chance's S.P.O.T. program is designed to assist pet owners to afford the cost of spaying.
We are grateful to grants that help us to provide these important programs.  Thank you to:
Second Chance's S.P.O.T. program is designed to assist pet owners to afford the cost of spaying or neutering their pet. This program helps pets in need get spayed/neutered. It is not meant as a replacement for regular veterinary care but as a resource to help those that need financial assistance getting their pets spayed/neutered.
To sign up for one of our clinics:
Complete the S.P.O.T Application online below or download and print.
For cats you can call the hospital directly to book your pet's appointment. If you require services in addition to spay/neuter, please let us know when you come in for your appointment.
Safety First:
Puppies under 6 months of age are required to have at least two distemper vaccines prior to surgery.
Second Chance has safety as its first priority when performing spay/neuters at our high volume clinic. For that reason, we will not perform s/n on animals over 6 years of age without pre-anesthetic blood work. This test is called a Senior Panel and ensures that your animal is healthy and has no underlying issues that would not be seen in a general exam before surgery. You can get this blood work done at your regular vet or at one of our hospitals. Please call us to schedule an appointment.
If you need assistance getting to our clinic please visit our transport program page.
VOUCHER DAYS
Need help spaying or neutering your cat or dog?  We look forward to resuming our Voucher Days when it is safe to do so.. We will be offering free spays or neuters for dogs and cats owned by low income Massachusetts residents in conjunction with the Massachusetts Animal Fund . There's a limited number of reservations available so please fill out the application (one application per pet please) and email or fax to: 
We'll give you a call to schedule an appointment so be sure to give us the best number to reach you and check to make sure we can leave a message. There are limited spots available so don't wait. Please note, these specific vouchers are only applicable to this date and cannot be transferred to another appointment.
¿Necesita usted ayuda con esterilizar su gato o perro? Tome acción ahora para reservar su cita para el día de cupón a nuestra clínica en Worcester. Ofreceremos esterilizaciones gratis para gatos y perros de residentes de Massachusetts de bajos ingresos en conjunción con el Massachusetts Animal Fund. Hay una cantidad limitada de reservaciones disponibles, así que por favor llenar la aplicación y mandarla por correo electrónico a worcester@secondchanceanimals.org o enviarla por fax a 774-207-5493 hoy. Vamos a llamar usted para hacer una cita, así que por favor asegúrese de darnos lo mejor número para contactar usted y probar si podemos dejar un mensaje. ¡Hay citas limitadas disponibles, así que no espere! Por favor note que estos cupones específicos califican solamente para esta fecha y no se pueden transferir a otra cita.
Services for Dogs
Male Neuter (1-100 lbs.)
Varies*
Female Spay(1-100 lbs.)
Varies*
Pit Fix Programs
Special Program for Pit Bulls
$75
Rabies Vaccination
$12
DA2PP (distemper) Vaccination**
$12
Heartworm/Lyme/AN/EC 4DX test***
$30
Microchip (Includes Registration)
$20
Flea/Tick treatment
$15
Dewormer
$20
*Due to the variance in breeds, size, age, etc. in dogs, please fill out the application and a representative will contact you for pricing.
** Puppies under 6 months of age are required to have at least two distemper vaccines prior to surgery.
***NOTE: HW/Lyme test can be done but we can not dispense any medications for either a positive or negative result at the time of testing. Results need to be brought to the pet owners regular vet and the vet will need to write a prescription for any medication, or if you would like to become an established client at our new subsidized clinic you can make an appointment with us.
Services For Cats
Male Neuter
Includes FREE rabies vaccine (if needed)
$75
Female Spay
Includes FREE rabies vaccine (if needed)
$85
Rabies Vaccine
N/C
Nail Trim
$5
Pre-surgery exam
N/C
Pain Medication
N/C
Hernia Repair
$30-$50
Dewormer
$20
Flea/Ear mite treatment
$15
FVRCP (Distemper) Vaccination
$12
Leukemia Virus/FIV Test
$30
Leukemia Virus/FIV Test
$30
Microchip (Includes Registration)
$20
Flea/Tick treatment
$15
Feral – F.A.S.T. Program
Click here for complete info on the Feral F.A.S.T. program
$40
Services for Rabbits
| | |
| --- | --- |
| Male Neuter | $180 |
| Female Spay | $180 |
| | |
| | |
| | |
| | |
| | |
| | |
| | |
| | |
| | |
Stop Pet Overpopulation Today! S.P.O.T. Application
Mobile Users – Please be sure to hit SEND at the bottom of this form!
Having trouble with our S.P.O.T. application?  You can download and print the form below and mail, email or fax it to your preferred location.
The Pit Fix
Help to get your pit bull fixed is only a click away!
Pit bull and pit bull mixes are the most common dog found in shelters. This is due in large part to the misinformation about the breed and over breeding. We want to help this breed by helping to fix pit bulls at an affordable cost. Be a responsible pit bull owner and get your pit fixed – we can help!
Second Chance helps to fix pit bulls for a cost of $75.00. If you have a pit bull and want to get your pit fixed, please fill out a S.P.O.T. application.  Every pit fixed helps to make a difference!
Your dog can qualify for our reduced cost pit bull pricing if:
He/she is a pit bull or mostly pit bull mix and has characteristics of a pit bull such as a square/blocky head, short muzzle, and a well-defined muscular structure.

You can present a copy of your dog's rabies certificate or previous medical records with the breed of pit bull clearly noted.
Qualification is at the discretion of our veterinarian.
We want to help all pets get spayed/neutered!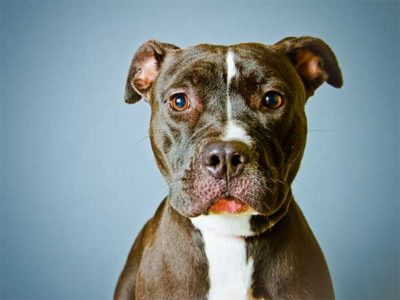 Transport Services Available!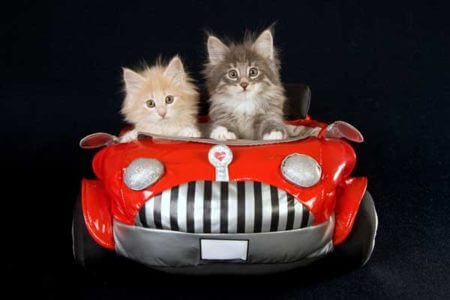 Want to utilize our spay/neuter program but can't get here?
We have begun to coordinate with other organizations to help facilitate spay/neuter to all those that need it.
Please note that there is a $10.00 per pet transport fee.
Transport Pick-Up Locations:
Second Thursday of the month.
Please call 508-637-1333 to schedule
Gardner, ACO Facility
899 West Broadway St., Gardner
Pick up at 8:45 am.
Drop off the next day at 8:45 am.
Winchendon, ACO Facility
637 River St.
Pick up at 9:15 am.
Drop off the next day at 9:15 am.
Athol, ACO Facility
450 Thrower Road
Pick up at 10:00 am.
Drop off the next day at 10:00 am.
We do add locations from time to time as well if there is a need in that area.
Barncat
Feral F.A.S.T. Program for Barn and Feral Cats
(Feline Alliance Sterilization Team)
Due to the overwhelming need for help in our community and beyond for feral cats, we have a life-saving program to help those felines in need.
What is a feral cat? A feral cat is an untamed domestic cat. Feral cats are cats that are either born in the wild or were abandoned and reverted to a wild state. Stray cats are not considered feral unless you cannot touch or pick them up. Feral cats will usually run away from you when approached. Feral cats do not live in the house with human contact. Please download F.A.S.T. FAQs for additional information about feral cats.
Spay/Neuter Program for Feral/barn cats (An all-inclusive package):
The cost to spay/neuter feral/ barn cats is $40.00
This is a comprehensive package which includes:
Spay/Neuter

Rabies vaccine (if not current)

Distemper combo vaccine

Pain medication (given at our clinic)

Flea Treatment

Ear Tip (a small eartip is mandatory for all feral cats. This helps to identify the cat as spayed/neutered. Since these cats live in barns etc., this helps to easily identify them from a distance).
How to Sign Up:
Need a feral or barn cat spayed/neutered? Please call to confirm availability:
North Brookfield: 508-637-1333
Worcester: 774-243-1234
What you need to know and Instructions for feral cat services:
ALL cats coming into our feral cat MUST be in humane feral cat traps.  All cats coming into this program will be eartipped for identification.
North Brookfield – Tuesdays, Wednesdays, Thursdays:
– Drop off is at 7:45 AM the day of surgery.  Payment is expected at the time of drop off.
– Pick up is at 4:00 PM the same day unless other instructions are given.
Worcester – Tuesdays, Wednesdays:
– Drop off is at 7:50 AM the day of surgery. Payment is expected at the time of drop off.
– Pick up is at 3:00 PM the same day unless other instructions are given.
We have feral cat traps that can be loaned out for a $20.00 deposit.
Do you live in Worcester? Please be sure to visit our Spay Worcester page for our Worcester program.
More feral cat info:
CARETAKER'S GUIDE: An Overview of Caring for Feral Cats
How To Help Your Neighborhood's Feral Felines
Community Cats & Public Health
Be Part of the Solution – Support the F.A.S.T. Program
We want to help feral cats live out a healthy life. Unfortunately, these cats were either born in the wild or were abandoned and reverted back to a wild state. They are not adoptable as house cats. Since these cats have adapted to life outdoors, the best we can do for them is provide vaccinations to keep them healthy and spay/neuter services so that their population is kept under control.
You can help in several ways:
Adopt a Trap: Feral cat traps are expensive and the shelter needs several traps to keep up with the need to loan these traps out to catch the feral cats and bring to the program. You can help by making a donation of $75.00. The trap will be marked with your "adoption". If you would like to donate a trap, please donate below and if you would like the adoption noted, please note it in the Memo section of the on the donation link (or with the check if you are mailing in the donation). Adoption Example "This trap was adopted in memory of Scooter".
Volunteer: Help by volunteering at the shelter for the feral program. Volunteers are always needed during these programs to do paperwork, clean out the traps while the cat is in surgery, and/or to assist with various other duties during the clinic. If you would like to help, please fill out our contact form.
Donate: It costs the shelter approximately $100. per cat for services through this program. You can help by donating to the program. To do so, you can use the PayPal button above or by sending a check to: Second Chance Animal Services, Inc., 111 Young Road, P.O. Box 136, East Brookfield, MA 01515.
Save a feral: If you are feeding a feral cat, please get them spayed/neutered. By using this program, you are helping to end pet overpopulation and are helping to make the life of that feral healthier.
Feral cat adoption: While the shelter does not routinely adopt out feral cats, we do help to rehome feral cats that have lost their existing home. If you have a barn or can provide other suitable housing and feeding for a feral cat, please contact the shelter.
Farms: Are you a farm? Please email us if you are a farm. Our definition of a farm is someone who is actively utilizing their property for the sale of produce or has farm animals and includes at least one barn or related structure. We do have programs for feral cats specific to the farming community. These farm programs are free or at reduced costs. Please email or call us for details.
Pets for Life
Second Chance Pets for Life Program
Second Chance Animal Services operates Pets for Life in Massachusetts.  This program targets communities that have been identified as in the most need for assistance in locating services to help with their pets needs.
The locations are currently in Worcester in the 01608, 01609, 01610 zip codes.  We offer assistance to all zip codes in Worcester but these 3 zip codes are our focus areas to help with pet overpopulation and pet services.  For additional information, please contact our Community Veterinary Hospital in Worcester at 774-243-1234.
We also have a special Pets for Life program in Springfield and Fitchburg.  These program services are announced regularly in these locations.
Please note that we have 3 full service veterinary hospitals located in North Brookfield, Worcester and Springfield.  All of these hospitals are open to everyone but also offer subsidized rates for veterinary services for those that qualify. For more information, explore the links below:
Community Veterinary Hospital Locations
Subsidized Pricing Qualification.
WHAT IS PETS FOR LIFE?
Pets for life is a groundbreaking community outreach initiative designed to extend animal welfare resources for pet owners who have never received services or have received services without long lasting impact. This approach is effective because it embraces the human component of the companion animal equation, we meet people where they live and establishing trust, creating a ripple effect in the community for long term impact.
By improving the relationship between a person/family with their pets, we feel we can improve the quality of life for both, thus increasing the chances of the pet staying in their homes permanently. This is a wonderful program for the city of Worcester, since this is the only grant of its kind awarded in the state of Mass.  Thanks to this grant from Petsmart Charities we are able to save lives with this program.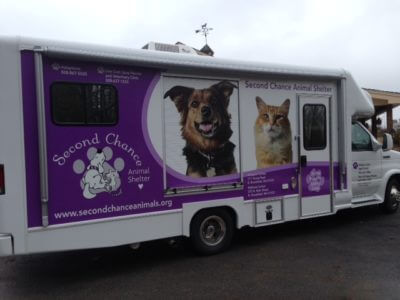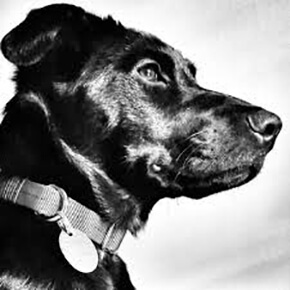 Elderly Pet Owners
Subsidized and Elderly Veterinary Care
Second Chance offers veterinary care at subsidized rates for those that qualify.  This is very helpful to those who are living on fixed incomes.  To learn more about qualifying for subsidized rates at our Veterinary Hospitals in North Brookfield, Springfield and Worcester, CLICK HERE.
Homebound to the Rescue

This program began as an extension to our Pet Food Pantry program that provides pet food to local food pantries. We found that in addition to pet food, elderly need assistance with basic pet care during these tough economic times.
Many of the elderly cannot afford to provide basic medical care for their pets and/or don't have the transportation available to get their pets to a veterinarian. This program assists pet owners by providing the services right at their doorstep. By going to elderly housing areas, we are able to help the elderly to keep their pets healthy and up to date on vaccines. This prevents the elderly from having to choose between their pet and putting food on their table.
Thanks to a grant from the Banfield Foundation we are able to offer this program to help pets and their loving owners! If you would like further information on this new program, please email us.
Testimonials
"I really wanted to thank you, your staff and 2nd Chance for providing the wonderful Homebound to the Rescue program to our tenants here at Lincoln Village. Your staff was amazing and so very professional and kind. As they may have told you, many of the pets that were seen probably hadn't seen a vet in a long time because of the cost and lack of transportation. Again thanks to all. You are truly appreciated." Darlene D.
SENIOR ADOPTION PROGRAM
If you are looking for our senior adoption program, please visit our adoption section.  Information on our senior discount program can be found under the "fees" section.