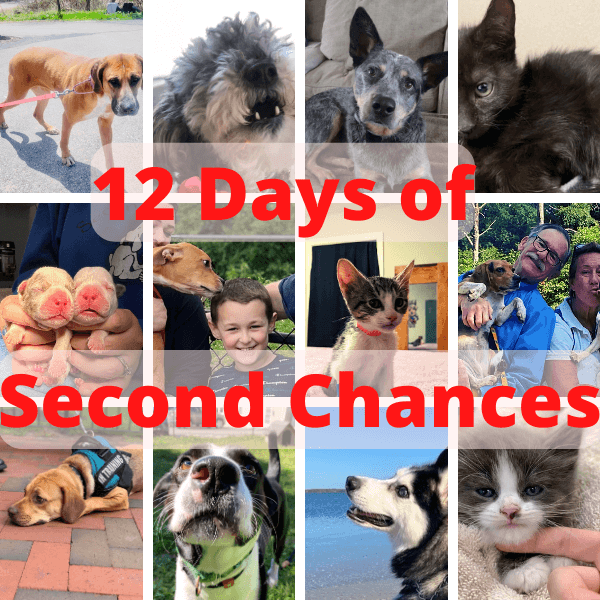 It's been an amazing year of saving lives thanks to your support. We are counting down the 12 Days of Second Chances by looking back at some of the amazing pets that together we've helped over the past year.

Lily was one of six dogs rescued from the South Korean dog meat trade that made their way to Second Chance in January to begin a new life. The other dogs had recently arrived in the United States as part of the Humane Society International's campaign to end the dog meat trade. They were being cared for by one of our partners, the Humane Society of the United States. Lily had been at their temporary shelter for longer.
She appeared to have been a breeding dog for the meat trade. Though very anxious, Lily had helped to comfort new arrivals before it was her time to begin her new life. She was nervous but was slowly beginning to come out of her shell.
At Second Chance, Lily learned to be a dog. It took some time for her to adjust and to maintain a healthy weight. A family who hoped to adopt Lily began to come and hang out with her several times a week for a couple of months. Eventually they were able to walk her and give her treats. They brought extended family to meet her so people would be more familiar once she went home. When the big day came for Lily to go to their home, Second Chance staff drove her because she was comfortable in her crate in the van. She was nervous, but when she saw her familiar person, you could see her relax. "Oh right, I know you. Let's go." She has done so well and was officially adopted in July.
---

Ten-year-old Chiquita went to work with her owner every day to greet customers. One day her owner noticed that she wasn't quite herself and was quite lethargic. An x-ray revealed a linear blockage. She needed emergency surgery, but the cost was too much for her owner's budget.
Her owner searched everywhere for help and had almost given up hope when she learned about Second Chance. Chiquita and her owner made the four-hour trip from New Jersey and our vets removed most of her small intestines to save her life. Without help, she would not have survived another day.
Chiquita made a full recovery and is back at work. This is why Second Chance pioneered access to care in Massachusetts – so every pet can get the help they need.
---

Finian was living in extremely harsh conditions when he was seized by local law enforcement and signed over to Second Chance in March. He was severely dehydrated, anemic, and emaciated – weighing only 25 pounds when a dog his size should be 45 pounds.
He had been eating anything he could find, just to survive. We had to focus on getting his weight up slowly, so we didn't make him sicker after not eating a good diet for so long. Once he was no longer anemic and his weight had come up, he could begin treatment for heartworm as well. He was also suffering from Lyme disease and anaplasmosis. He was in our care for some time to treat all his medical needs and found a wonderful foster who officially adopted him just last month.
"He is the most loving boy! I think he is happy to have a full belly, a roof over his head, soft places to sleep, someone to play with (almost all day!) and belly rubs. He seems to just appreciate a good life. I look at him and ask myself how can he be so loving after what he went through?! Now that Finian is an official member of our family, and his heartworm testing was negative, he will be running around his fenced in yard and going for long walks. We are so happy that he found us!"
---

In April we took in 22 cats from a home in our community. There were lots of babies and two moms named Duchess and Roo. Four groups were welcomed by our amazing fosters until they were old enough to be weaned and spayed or neutered. When they were ready for adoption, they all found wonderful homes.
---

Our North Brookfield hospital helped bring these two beautiful babies into the world in May while performing an emergency c-section.  The owner was very grateful.  Mom and babies were doing wonderfully when they came back for a recheck.
---

11-week-old Baby Yoda arrived at Second Chance on transport from a crowded Missouri shelter with a congenital defect. He was born without a radius in one leg. His leg was abnormally shaped and shortened. He could not bend it or place weight on it and when he tried to use the leg, it caused him to contort his body which put him at risk of arthritis and injury to his body.
Baby Yoda needed surgery to amputate his leg.  The surgery was a success and in no time, he was hopping around like a champ, ready for his 'second chance.'  That chance came when a family saw him on our website and rushed to meet him. It turns out their eight-year-old son had something in common with Baby Yoda.  Their son had an above the knee amputation after he was born with a congenital defect of his leg.  They knew Baby Yoda would make a perfect addition to their family.
---

Candy was a 3-month-old kitten who was very sick from what turned out to be aspiration pneumonia.  She was so cold, lethargic, and stayed laying on her side most of the day. Our North Brookfield hospital team warmed her up, started her on antibiotics and gave her lots of TLC. A Second Chance vet took her home fearing she was not going to make it.
"I didn't want her to be alone or suffering. That night she laid on the couch with me for 4 hours, not moving at all. She slept in a makeshift area next to my bed so I could check on her breathing every 30-45 minutes throughout the night. I woke up at 4am to a little mew and her little paws on the side of my bed. Her harsh breathing had subsided, and she was purring when I held her."
Within 24 hours, she was back to being a crazy kitten.  She made a full recovery and is enjoying life with her new family here in New England.
---

In August Second Chance traveled south to help one of our partners, the Humane Society of the United States, with the effort to rescue 4,000 beagles from a medical breeding facility.  Inspectors found some of the dogs living in unsanitary conditions with insufficient food and inadequate veterinary care.
We brought back 20 beagles who had spent their entire lives in the facility, known only by a tattoo on their ear.  It was precious to watch them wander and explore in the dog yard, their paws touching grass for the very first time. Your support helped them begin new lives with names and families who love them by providing the veterinary care to prepare them for adoption.
---

The pandemic disrupted so much, including visits to the vet.  Second Chance resumed in-hospital vaccine clinics early in the pandemic and prioritized resuming community vaccine clinics as soon as cities and towns would allow as the risks grew.  In the midst of this year's full schedule of local vaccine clinics, news broke of several parvo cases confirmed in one Springfield neighborhood. We responded immediately with an emergency clinic to examine and vaccinate dogs at risk on-site. Free vaccine clinics were set up in multiple Springfield locations to eradicate the threat.  We also hosted a free vaccine clinic in Fitchburg this fall to help mitigate the risk of an outbreak in that community.
Your support brings critical veterinary services to protect pets in the community.
---

Houston is a young pup who came to Second Chance suffering from a very serious condition – heartworm disease. This condition could lead to serious lung disease, heart failure or death if not treated in time.
Heartworm treatment isn't easy on a dog – it includes a series of injections that can be very painful. Houston needed to be closely monitored in our hospital after each injection to ensure there weren't any complications or reactions. His treatment took place over the course of several months.
Thanks to your support, Houston was able to complete his treatments in October. His foster will bring him back in 6 months to confirm the treatment was successful so that he can be officially adopted. Houston is just one of the many pets who came to Second Chance this year with great medical needs.  With your support, pets like Houston get the treatment they need so they can get a true 'second chance.'
---
Blue was just a young husky pup when he was surrendered to Second Chance by a local animal control officer.  He was clearly uncomfortable and pawing at his red eyes.  Upon closer examination, our vets found he had limited to no vision, possibly from birth.  He needed to start daily eye medication right away and needed an experienced foster so he could begin treatment.  Thankfully Second Chance works with many rescue groups.  A contact that had worked with a husky rescue for years was able to temporarily foster this pup and helped find a long-term foster while Blue's medical needs were addressed.
Blue found a true champion when he met his foster.  She had adopted rescue huskies for many years, most had been abused or neglected. She'd never had a blind dog before, but she was determined to help Blue and did some quick research.
She ordered blind toys like meat scented fetching balls & squeaky toys and also ordered a scent kit to put certain scents with certain things.  The food and water bowls got one scent, dangerous areas like stairs got another scent.
"Mostly, it was just spending time with him and teaching him that when I say, 'wait,' he needs to stop until I say something else.  I.E.- I say, 'wait' at the top of the stairs, and then I say, "step" for each stair he needs to walk down.  In all honesty, he figured out my house and yard very quickly based upon his own trial & error.  The eye doctor said he's very adaptable because he's been blind for most of his life.  I really thought he'd require much more work."
"He's smart and sweet.  The real secret for Blue was the same as every husky, daily exercise.  Our beach walk keeps him very satisfied for the rest of the day. My husband passed from cancer in March and my two 13-year-old huskies passed within the last year, so frankly Blue has done more for me than I for him."
We are happy to report that this foster has fallen for Blue and last month he was officially ADOPTED!
---

Babies can get themselves into all sorts of trouble and Prancer and Asher are no exception.  These two pets were transferred to Second Chance from other facilities days apart after fracturing their legs.
At five weeks old, a young kitten named Prancer fell through a grate onto a cement pad one story below. He fractured his femur. A caring person brought the young kitten to Second Chance so he could get the care he greatly needed. It was a clean break and one of our vets surgically pinned the limb to aid in healing. One of our doting vet techs is fostering him while he recovers. If all goes well, he should be fully healed in 4-6 week so he can get ready to be adopted.
Days later, a five-month-old puppy named Asher was also transferred from another facility for surgery to repair a badly fractured leg. Staff kept him comfortable with pain medication overnight and he underwent surgery the next day to repair his leg.  He is doing great at his foster home. He seems comfortable, happy, and wants to be a puppy!  Now the challenge is to keep Asher calm and limit his activity
---
We are so grateful for the support that made these Second Chances possible. If you would like to give the gift of hope to a pet in need in the coming year, please consider a donation in their honor: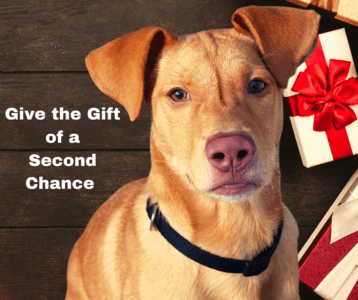 Your gift will help keep pets in their homes whenever possible, and when they can't, it will help pets get a second chance with a new home.