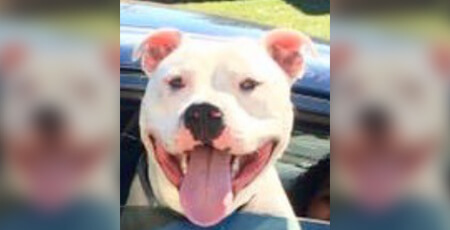 A Second Chance for Barkley
Second Chance Animal Services, in East Brookfield, MA, is a nationally recognized organization that provides innovative programs and services to help animals. Second Chance Animal Shelter has been helping animals since 1999. We are a no-kill, nonprofit charitable 501c3 organization. We help over 26,000 pets through adoption, low cost spay/neuter, subsidized veterinary care, community outreach, educational programs, training, a pet food pantry, and other services. Our Mission is to provide temporary shelter to stray, abandoned, and surrendered animals for the purpose of finding permanent suitable new homes. We also aim to provide assistance and financial aid to prevent overpopulation through spaying and neutering programs. We support a healthy pet community and responsible animal husbandry by providing reasonably priced general veterinary services, as well as low/no cost general veterinary services to those unable to afford care for their pets. We provide these services to animal control agencies, animal shelters and rescues.
The generous donations of blankets, towels, pillowcases, and sheets we received from Bed Bath & Beyond are used in the surgical department of our Wellness Clinic where we provide low cost spays and neuters, as well as life-saving surgeries and dental procedures. After surgery, the pets are snuggled in the blankets and towels to warm up as they wake from anesthesia. Pillowcases are filled with rice and turned into heating pads to keep our patients warm and comfortable through the recovery process. Sheets are draped over crates to dampen sounds and keep our patients calm until discharge. The worn blankets and towels get a second life at our Adoption Center where they are used to care for pets waiting to find their forever homes.
Second Chance Animal Services is a nonprofit committed to helping as many animals as possible and every dollar we save is a dollar that can be spent toward helping another animal. We do 6,000 surgeries a year resulting in approximately 14 loads of laundry a day. The linens take a beating so we are always faced with the need for more supplies like those we received from Bed, Bath & Beyond.
We are the only animal welfare organization in Massachusetts that operates subsidized veterinary clinics for pets in need. The donations help us keep the prices low at our veterinary clinic and allow us to offer subsidized pricing to those pet owners that would not otherwise be able to afford veterinary care. Every day we get calls from pet owners facing the decision of putting their pets to sleep because they cannot afford the estimate they received for an emergency surgery.
Barkley is a Staffordshire terrier who was just four months old when he came to us with a broken leg. His owner was running out of options to get him the medical help he needed. She told us his story.
"I came home a little later than usual and my baby boy was so ecstatically happy, he jumped up on me and then fell back and broke his hind leg in three places. He let out an awful yelp. He was crying in pain with tears coming down his face. I scooped him up put him in my car and flew to the closest animal hospital. I knew his leg was not right. I was given three options: euthanize him, amputate the leg, or pay over $10,000 for a surgery that they said might not work. I was beside myself, I couldn't believe what I was just told about this poor dog. I researched many different organizations, hospitals, and emergency vet care, from Massachusetts to California. I was going in circles, getting the same answers. I was lost but I didn't want to give up on him. While researching, I came across Second Chance. I remember calling, trying to get my words together. I explained everything between fighting back tears. I can remember the receptionist, a sweet voice, saying, "When can you get him here?" I couldn't believe it! I told her I would be there in about an hour, and off we went.
When we arrived, the vets took him in right away. They examined him and approached me in such a warm manner. They seemed to understand, they cared, and they were willing to take this major surgery on. Most importantly, Second Chance was willing to work with me. The care my dog received was phenomenal. The staff from the front end to behind the scenes was absolutely outstanding. They were so good to me. Finally, people that truly cared and were compassionate. It made such a difference and a huge weight was lifted.
Second Chance was my Barkley's only chance when every door was shut in my face and I didn't have it in me to surrender him. The rollercoaster was finally over. He had the surgery. I waited like it was my child. Without the assistance of Second Chance, none of my big-headed boy's care would have been taken care of. From his medications, to his bandage changes, x-rays, bone grafts, and multiple surgeries, none of it would have been possible without Second Chance. They strive to ensure pets stay with their fur-ever families. The dedication these doctors show for the animals in need is simply amazing. I will always be so grateful and appreciative of Second Chance. Thank you for giving Barkley a Second Chance on life."