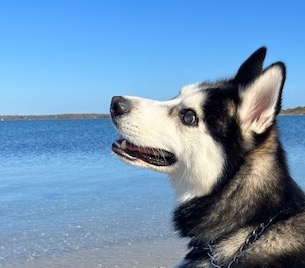 Blue was just a young husky pup when he was surrendered to Second Chance by a local animal control officer.  He was clearly uncomfortable and pawing at his red eyes.  Upon closer examination, our vets found he had limited to no vision, possibly from birth.  He needed to start daily eye medication right away and needed an experienced foster so he could begin treatment.  Thankfully Second Chance works with many rescue groups.  A contact that had worked with a husky rescue for years was able to temporarily foster this pup and helped find a long term foster while Blue's medical needs were addressed.
Blue found a true champion when he met his foster.  She had adopted rescue huskies for many years, most had been abused or neglected. She'd never had a blind dog before, but she was determined to help Blue and did some quick research.
She ordered blind toys like meat scented fetching balls & squeaky toys and also ordered a scent kit to put certain scents with certain things.  The food and water bowls got one scent, dangerous areas like stairs got another scent.
"Mostly, it was just spending time with him and teaching him that when I say, "wait," he needs to stop until I say something else.  I.E.- I say, "wait" at the top of the stairs, and then I say, "step" for each stair he needs to walk down.  In all honesty, he figured out my house and yard very quickly based upon his own trial & error.  The eye doctor said he's very adaptable because he's been blind for most of his life.  I really thought he'd require much more work.
He's smart and sweet.  The real secret for Blue was the same as every husky, daily exercise.  Our beach walk keeps him very satisfied for the rest of the day. My husband passed from cancer in March and my two 13-year-old huskies passed within the last year, so frankly Blue has done more for me than I for him."
We are happy to report that this foster has fallen for Blue and last week he was officially ADOPTED!