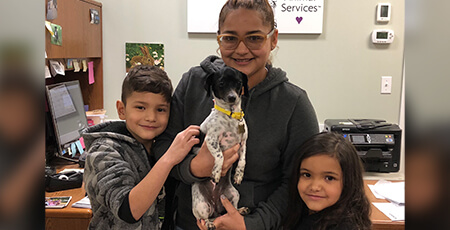 Daya Reunites With Her Family
Second Chance Helps to Reunite Dog and Owner Separated by Hurricane Maria
Daya Just One of 18 Pets Making a New Home in Massachusetts
NORTH BROOKFIELD, MA (April 17, 2018) – There wasn't a dry eye in the room as Juleyka Cruz and her family first saw their beloved dog Daya. It took a moment for the dog to realize what was going on, and then she leapt for joy into their arms. The family had been forced to relocate to Framingham without their dog after Hurricane Maria devastated Puerto Rico. They were excited to learn that Daya had been found and was on her way to Second Chance Animal Services Almost Home facility in North Brookfield.
Daya was one of 18 pets that arrived at Second Chance on the transport facilitated by St. Hubert's Animal Welfare of Madison, NJ and the Puerto Rico Animals Unite Initiative. Second Chance picked up the pets in New Jersey this morning. The remaining pets who don't have owners will be available for adoption at the Second Chance Adoption Center in East Brookfield after completing a quarantine period and medical release by staff veterinarians.
Conditions in Puerto Rico after Hurricanes Maria and Irma changed the lives of many families in Puerto Rico. Some who decided to relocate were forced to leave their pets behind due to a lack of transportation options. Second Chance was happy to continue their mission to help animals affected by the hurricanes by reuniting this dog and the owner. Last year Second Chance took in 120 pets from hurricane ravaged areas to help make room in the shelters in the affected areas for incoming pets. Second Chance also mentors a shelter in Puerto Rico through the Operation H.O.P.E. program. Two Second Chance vet techs traveled to Puerto Rico this past January, bringing supplies and helping to train local staff.
Second Chance CEO Sheryl Blancato reports Second Chance is grateful for their partnerships in Puerto Rico. "We are excited to be a part of the happy ending for pets and owners who have been through so much. Keeping pets and their families together whenever possible is our first priority." Second Chance is an emergency partner for the ASPCA, Humane Society of the United States, and several others. They answer the call for help from many locations.