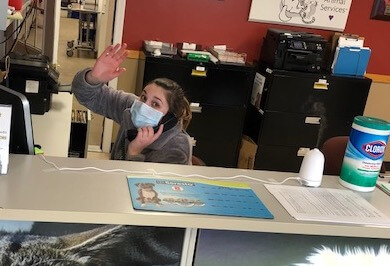 Last weekend, looking for a way to help, Dr. Park found a  a pattern online to make cloth masks that we could use at Second Chance. We shared the pattern with volunteers who are making additional masks, allowing us to donate our supply of disposable masks to Harrington Hospital.  Dr. Park created a tutorial for anyone looking to help create more masks.  Download the tutorial here:  Instructions for face mask with binding tape ties
Masks can be dropped off at our North Brookfield vet hospital, 372 N Main Street, North Brookfield in clear plastic bags marked MASKS.
Thank you to everyone supporting this effort.  We are grateful to find a small way to support the healthcare professionals in our community who are on the frontline, caring for patients affected by COVID-19.