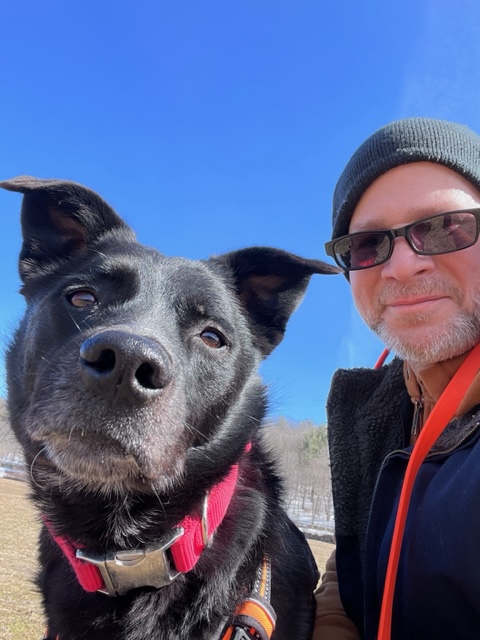 The long road home, the lessons learned and the love left behind…
Nellie's Second Chance
When I first met Nellie (the shelter staff and volunteers knew her as Socks, as that was her name when she was surrendered), I gave her a new name for her new start. I knew she was smart, probably the smartest dog I have met at the shelter, but she needed help dealing with her emotions.  I think she understood her problems and was willing to work on them once I earned her trust.  Little did I know that she would help me just as much dealing with my mine. In the nine months we worked and played and walked together we, at times, would need to comfort each other and build each other's confidence. And that we did.  I was certain we had a lot to learn from each other but I was not prepared for all that she would become to me along the way.  Student, teacher, friend, my rock, my girl, my Nellie.
9 months in the shelter, countless Dog's Days Out, miles of trails, lots of hard work and just a few days before her 4th birthday, Nellie went home and I smiled through the tears.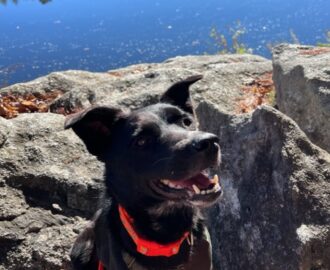 Oh, Nellie. I knew this one was going to be tough and it was.  I knew I would have trouble letting her go and I did. I knew that my emotions would be all over the place when she finally went home. They were.  I knew I was going to miss her terribly and I do.  I love volunteering and I love this work and I love all these shelter dogs.  But Nell is special. She will always hold a special place in my heart.
Nellie was there for me and helped me grieve the loss of both of my parents.  She was a great comfort to my family on the day my father died.  I stopped at the shelter on my way to my childhood home and picked up Nell as I knew she would be a good companion.  She gave hugs to my mother and sister and rolled around on the floor with my brother as we all came to terms with the loss. She was a great comfort and beautiful distraction.  My father would have loved her if he got to meet her.  Three months later it was Nell that walked with me before my mother's wake as I tried to process all that had happened and it was her, I visited after the funeral just to spend time with my friend.
So, I met her potential adopters.  I told them all I knew about her and everything they should know and of course they saw how special she is and decided to give Nellie her Second Chance.  So, after both of Nellie and I had a bit of a meltdown, I walked her over to the car where she sat and waited for the door to open and it did and she jumped in.  Everyone was saying good bye to her.  When a dog like Nell is at the shelter that long I think everyone gets more attached than they realize. There were tears, there were smiles, and then there was whatever it was I was feeling.   She poked her head out from the back seat, paws on the center console, like always, and that smile on her face.  Finally, I lowered my head, ducked into the car, and grabbed her face, kissed her on the nose, told her I loved her and then; I watched them drive away.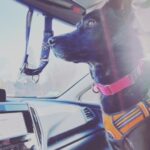 This is what she worked so hard for. This is why we sat in my car in the dead of winter reading books and watching videos and taking courses.  This is what I wanted for her since she walked into the shelter 9 months ago. This is what I promised her.  This is her second chance.  These are wonderful people that really seem to get her and are willing to continue her conditioning and take her on through this next chapter of her life.  This is a good thing.  I should be happy, and I am.  But I really am going to miss my friend, my teacher, my rock, my girl, My Nellie.
Happy Birthday Nellie
Mike -long time SCAS volunteer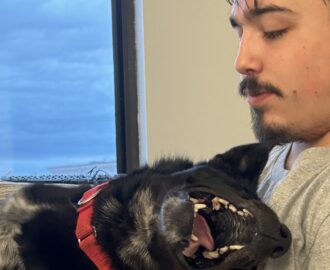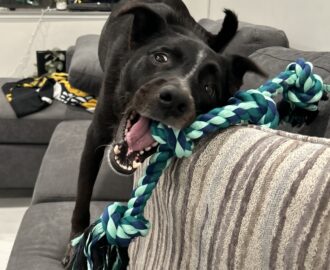 Nellie is finally home!  Her family tells us she is doing amazing.  She's making lots of friends including the security guards that she visits every night.  She needs to say hi to them and sit in their laps for a few minutes before bed.