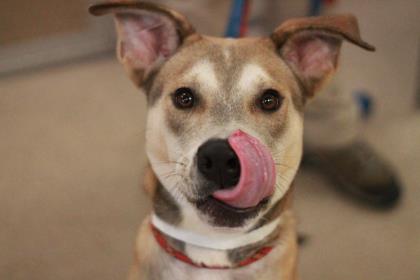 Adoption Center Supervisor Aimee offers advice for would-be adopters
Lately we are hearing how difficult it can be to find a pet to adopt. With people spending more time at home, pets are being adopted faster than ever before. We recognize how frustrating searching for that special new family member can be right now, so we're here with the inside scoop on how our adoption process works.
Did you know that the adoption page of our website is live? That means the animals you see listed under our adoption pages are exactly who we have available. The moment a pet is adopted they no longer appear on the site, so we recommend checking frequently.
Small biographies are created for each animal as we learn their personalities. It is a good idea to read these biographies closely before heading to the shelter. Sometimes pets require special arrangements such as no other animals or no children, or even no beards! In these instances, we have learned what frightens a dog or cat most and will actively avoid placing the animal in a home that will cause them stress.
Adoptions are on a first-come-first-serve basis because the adoption process hinges on a face-to-face interview. We need to see everyone who will be living with the animal interact to make sure everyone gets along. Once you are in an interview area with an animal, our focus is on how the animal reacts to you. We're hoping to see positive interaction: wiggly tail wags from the pups or purring head boops from the cats. From you we are hoping to see patience and a friendly demeanor that invites the animal's trust. This sometimes takes a while.
If you have another dog, we do require the two animals to meet. Some animal personalities simply don't mesh and we want to be sure both dogs get along to move forward. Nobody wants a dog fight in their home and we need to be reasonably certain of everyone's safety.
Assuming the pet interview goes well, we do same day adoptions, so you can expect to go home with your new family member provided all requirements have been met. If you rent, we need to see proof from your landlord that you have permission to bring an animal home. The adoption survey can be done through our website or in person, and our adoption fees are based on age.
We do our best to match personalities but keep in mind that the kennel is not like a home environment for these animals. Their whole lives have turned topsy-turvy. It is going to take some time and care before their true colors begin to shine. That calm dog here in the kennel could become the most exuberant creature in your home.
We love each animal that enters our care and want to be certain they find their perfect forever home. Sometimes, however, an adoption does not work out which is why we have a lifetime return policy. If you have questions or needs after an animal goes home, please feel free to call us. If we don't answer the phone right away, it just means we're busy feeding or cleaning the animals in our care. Leave a message and we'll get right back to you! We're here to help.