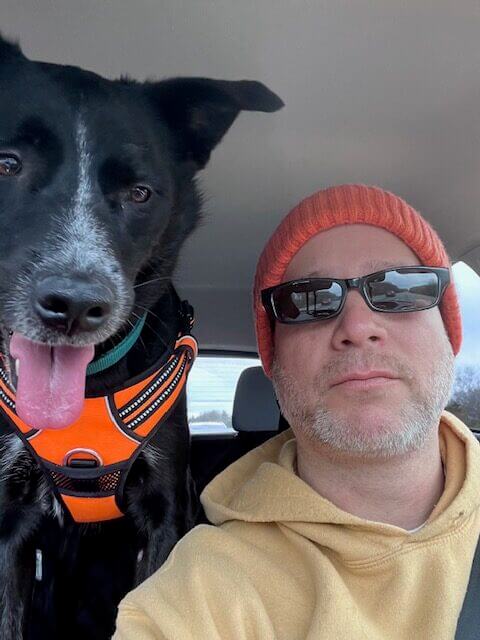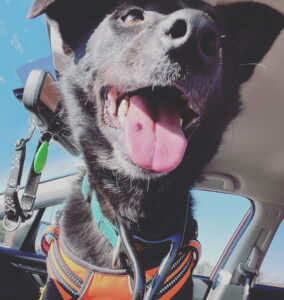 She lead the way across the open field heading back to the parking lot when I saw a man waving at me. He asked if he could say hi to my dog and we approached a couple on a morning walk.   "We just said good-bye to our dog of 15 years" he told me with that crack in his voice that I know all too well.  "I could see her looking at us and I just needed to say hi."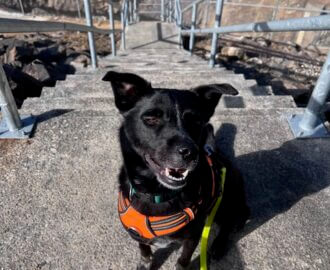 "She's not my dog. She lives at Second Chance Animal shelter," I told the older couple that wanted to introduce themselves to my little black companion.  "They call her Socks, I call her Nelly or Nell."  She approached the man and rose on her hind legs and gave him a hug. He smiled and laughed and hugged her back.   I told her down, she sat down in front of him.  I made a click sound with my mouth and she turned and came to me.  I gave her the hand cue to sit.  She sat.  I gave her the hand cue to lay down.  She did.  I told her to come up, she came up and got a treat.  "She has me trained well." I smiled at them.
"She is such a good girl," they said.  "She's so smart," they noticed.  She sat beside me as we spoke and then she approached the woman and startled her as she jumped up to give her a hug too.  She laughed and petted her and hugged her back.  "She is so sweet."
"She's a hugger," I said, grinning.
I told them I take her out a couple times a week.  We discussed her life at the shelter and the training and conditioning we have been doing together.  They told me I was a good person for doing what I was doing.  What they did not know is that this girl has done as much for me as I have done for her.  Nell came into my life and into the shelter at a time when I needed her and I knew that she was going to need me.  And so, she became "my girl" from that day until the day she goes to her new home.
So, because of the amazing program at Second Chance called 'Dogs Day Out' this girl and I have spent so much time together these past few months. We have hiked a lot of miles in the summer heat, playing in the autumn leaves and walking briskly through the winter snow and wind.  I took a week off from work at the beginning of the fall and spent it with her and we hiked almost 50 miles in 6 days at about 10 different locations.  She is truly a great companion. She is a great friend.  She is a great dog.
I've been volunteering at SCAS for years now and every pup I have met is amazing in their own way. Some I only meet once and never see them again and some stay longer so I get to know them better. I get dogs, I just get them.  And now and again I meet one that just gets me.  And this girl gets me. You see, eventually I plan to work with dogs/animals full time; so behavior and training are things I am constantly studying and reading about. I'm always trying to develop my conditioning methods and skills so, finding a girl like Nell that is so intelligent and emotionally complex was like finding a real hidden gem.  A true diamond in the ruff!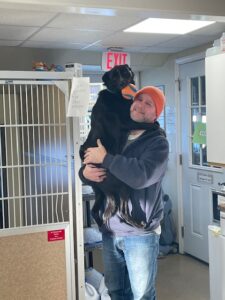 I started this blog with the story about the couple mourning the passing of their beloved dog and wanting to say hi to Socks/Nell for a reason.  I tell that story because it is not the only time it happened.  There have been several times where someone asked if they could say hi to her.  Because she was looking at them like she wanted to say hi. And she walked over and hugged them, and they smile and laugh and embrace her and tear up and with that crack in their voice that tells me that they just lost their dog.   Coincidence? Maybe. Or does she just have a sense?  I don't know but it has happened enough that it makes me wonder.
If I had the home and the yard that she needs and deserves she would be my girl forever.  There is no question about that.  But I have made a promise to her.  I promised her that with all my heart, the staff and I would find her the perfect people to take her home for good and give her the Second Chance that she deserves.
If my girl sound like the friend you are looking for come by and say hi and maybe we can all go for a hike.  Or maybe just stop in for a free hug.
Mike -long time SCAS volunteer